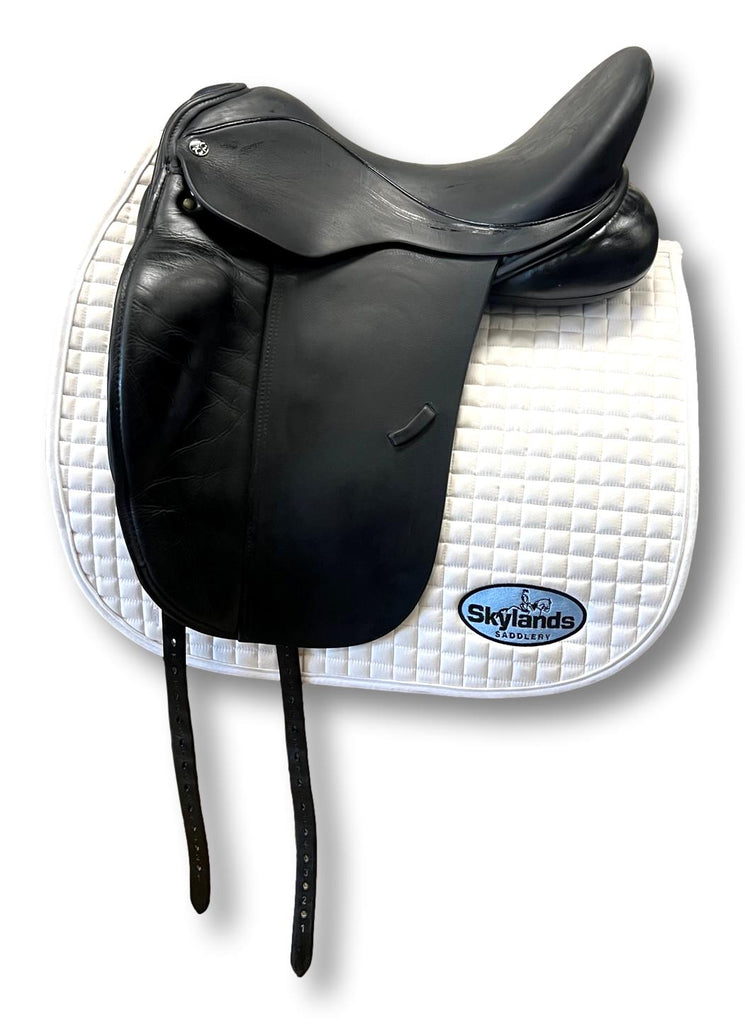 TRILOGY
HOLD: Used Trilogy Verago Elite 18.5" Dressage Saddle
$ 2,595.00
ON HOLD - This saddle is currently out on trial.
Price Drop! was $3,195 Now $2,595

 
This used Trilogy Verago Elite dressage saddle is in very good condition with minimal signs of wear. This model is one of the most popular from Trilogy. It features a deep seat with a narrow twist for a supportive, close-contact feel that many riders love. The saddle has two billets on each side (front point and back is V-billet), and wool flocked panels. 
Seat: Stamped 18.5"
Flap: 17"
Color: Black
Serial #: 3525
This saddle is stamped XW for Extra-Wide.
Is this saddle a good option for my horse? Our saddle fitter can review photos and a wither tracing of your horse to see if this saddle might work for you.
Saddle trials. We want you and your horse to find just the right fit. All of our saddles come with a 14-day, round-trip trial period. During your trial our fitter can review photos of the saddle on your horse to assess the fit.
Please don't hesitate to
contact us
with any questions.
All measurements provided have either been taken directly from saddle stamps, or are approximate measurements taken by Skylands Saddlery staff. This information is provided as a courtesy to our customers, and is not a guarantee of size or fit as each individual saddle differs from the next (including those of the same brand and model).

All used saddles are sold as is. Although we thoroughly inspect all used saddles in our consignment program, we recommend having any used saddle evaluated for fit and condition during your trial period. We do not warranty the condition of any used saddle. Used saddles purchased from Skylands Saddlery do not come with any warranties, either express or implied. A copy of our complete Saddle Trial Policy will be enclosed with the saddle. You may also review it here prior to taking a saddle on trial.