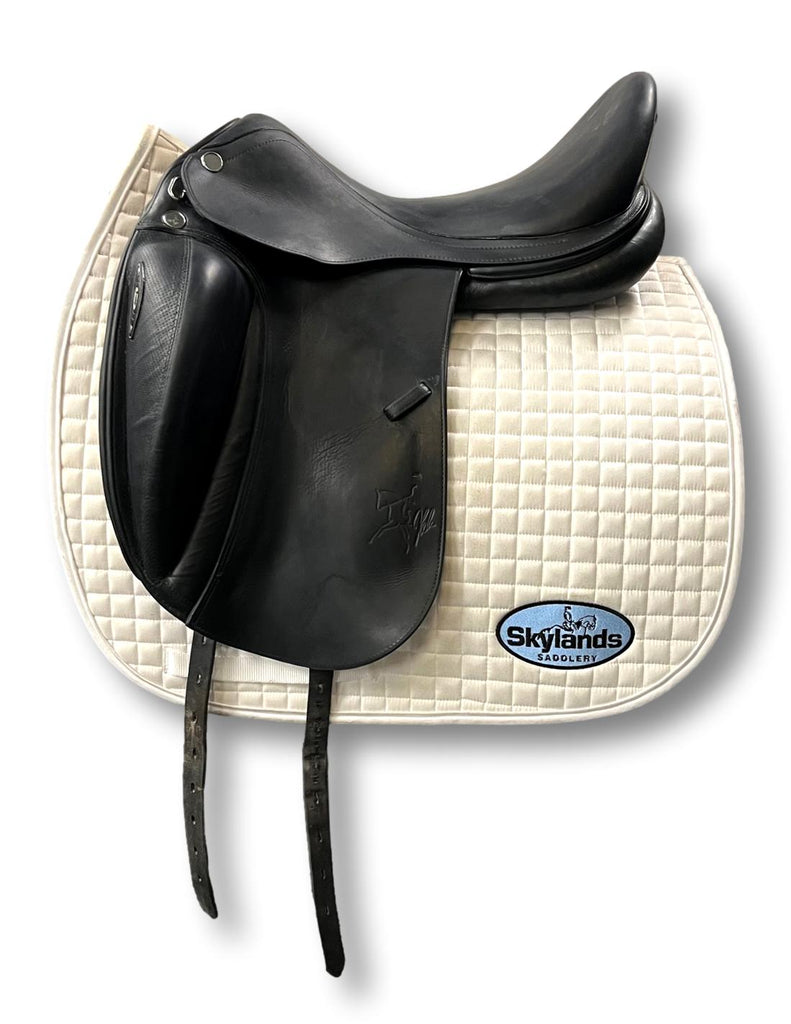 PRESTIGE
Used Prestige X-Helen K 18" Dressage Saddle
$ 2,700.00
This used Prestige X-Helen K dressage saddle is in good condition with moderate signs of wear. The Prestige buttons on both sides of this saddle are missing (please see pictures). The saddle features a monoflap design, deep comfortable seat, fixed large anatomically shaped thigh blocks, and two long billets. Made in Italy. Built in 2017. 
 Seat:
 18"
Flap:
 16"
Color:
Black
Serial #:
 1833-08860617  
This tree is set to what we consider to be approximately a size 
Medium-Wide to Wide.
 
This saddle has an adjustable tree; however, it must be sent to Prestige for adjustment. Because of this process, we are unable to adjust the tree for trials. If interested in purchasing and then having the tree adjusted, please contact us for more details.


The technical specifications and the feeling for the rider remain unchanged, with the same narrow, deep twist. The rider is seated very close to the horse without hindering its movements. The blocks are innovative, as they are now curved to follow the anatomy of the horse. They have been designed to follow the somatic development of the horse's shoulder, to enhance balance with horse's natural shape while respecting its musculo-skeletal conformation. The proportion between structure and softness adds to the block's comfort and optimizes synergy between the horse and the rider. The anatomically shaped panels ensure maximum freedom of movement for the trapezius muscles.

Our innovative X-Technology saddle has been conceived to guarantee rider comfort, the gateway to enhanced sports performance. The rear part presents two holes with an elastic membrane where the rider's ischium comes into contact with the saddle, for a softer and more comfortable seat.

Panels fitted onto this tree guarantee comfort and stability for the horse's back. They are made from an elastic honeycomb membrane and a layer of soft rubber. Dacron synthetic fiber is the material of choice for stuffing.
Is this saddle a good option for my horse? Our saddle fitter can review photos and a wither tracing of your horse to see if this saddle might work for you.
Saddle Trials:
  We want you and your horse to find just the right fit.  All of our saddles come with a 14-day, round-trip trial period.  During your trial, our fitter can review photos of the saddle on your horse to assess the fit.
Please don't hesitate to 
contact us
with any questions.  
All measurements provided have either been taken directly from saddle stamps, or are approximate measurements taken by Skylands Saddlery staff. This information is provided as a courtesy to our customers, and is not a guarantee of size or fit as each individual saddle differs from the next (including those of the same brand and model).
All used saddles are sold 

as

 

is

. Although we thoroughly inspect all used saddles in our consignment program, we recommend having any used saddle evaluated for fit and condition during your trial period. We do not warranty the condition of any used saddle. Used saddles purchased from Skylands Saddlery do not come with any warranties, either express or implied. A copy of our complete Saddle Trial Policy will be enclosed with the saddle. You may also review it here prior to taking a saddle on trial.