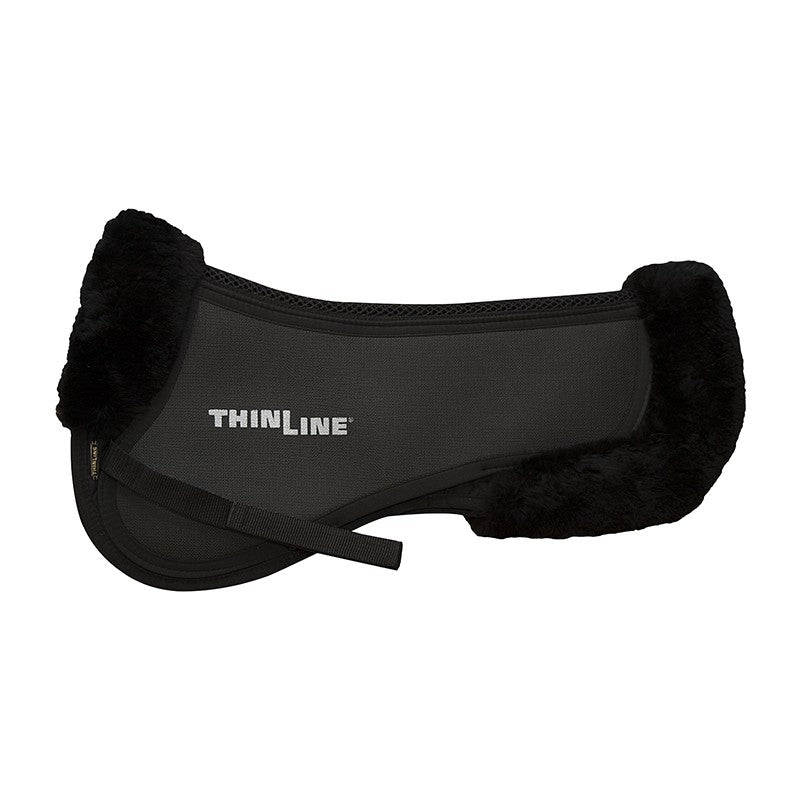 THINLINE
Trifecta Half Pad with Sheepskin Rolls
$ 220.00
ThinLine developed this saddle pad to give riders the appeal of fleece worked around the edge, and the shock absorption they and their horses need without the bulk,  maintenance or cost of a full sheepskin pad.  The Trifecta offers no interference for riders who prefer close leg contact with their horse.
The Trifecta is also shimmable in the front, center, and rear to help assist with minor saddle fitting adjustments.


Mesh spine band to improve breathability.
Raised wither profile to accommodate more top-lines.
Higher quality cotton base with denser weave and light wool fill.
Stronger and more durable billet straps.
Sheepskin rolls removed from the bottom of the pad, allowing for a clean, even fit.
A longer drop to protect below the stirrup bar. The larger pocket allows you to shim more behind the point of the shoulder.
Like the entire ThinLine collection, the Trifecta moulds to the horse's body as the horse warms up, creating the customized ThinLine non-slip, shock-absorbing fit and feel.
Choose between Black, White or Natural; sizes Small, Medium and Large. (NB. "Natural" color features black cotton/ThinLine with natural sheepskin rolls)
Large: 

measures 19.25" between the rolls and 24" including the rolls

Medium: 

measures 18" between the rolls and 23" including the rolls

.
Thinline Item Number 7416