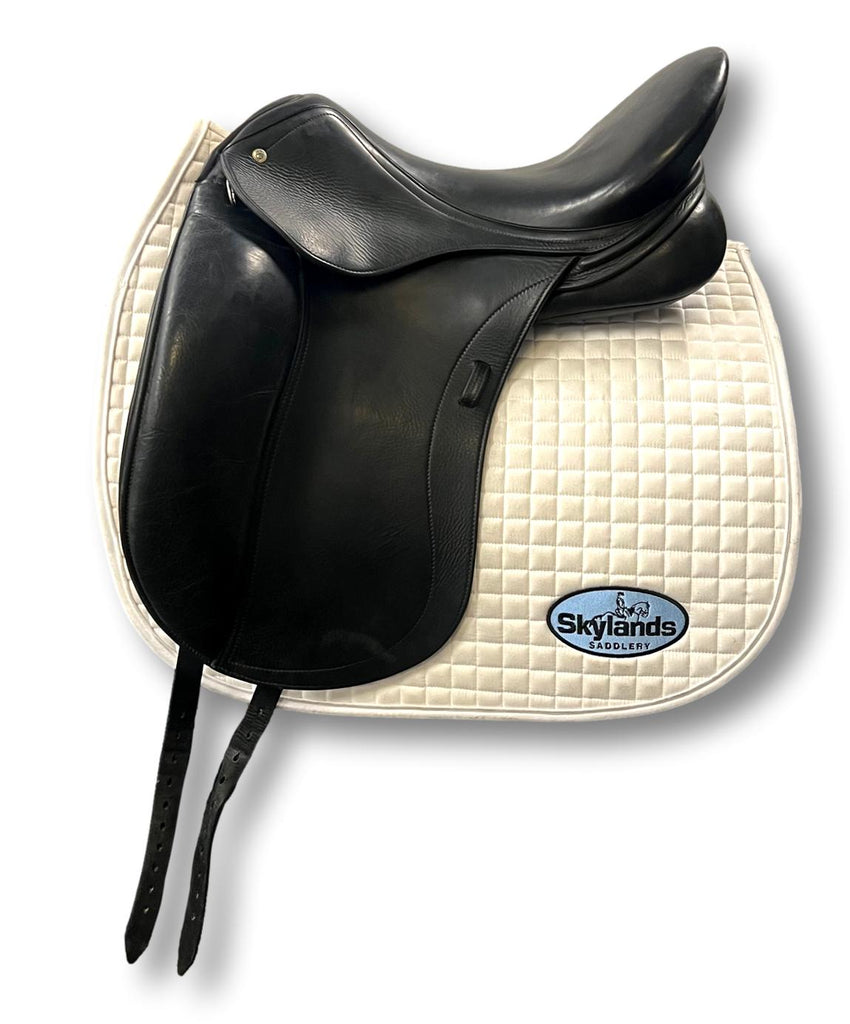 SCHLEESE
Used Schleese HK 18" Dressage Saddle
$ 1,795.00
This used Schleese HK (Heike Kemmer) dressage saddle is in good condition with moderate signs of wear. This saddle has a high wedge (HW) and a shoulder relief (SR) panel. Two long billets (front straight and back adjustable 'V'). The saddle features padded flaps over thigh blocks adjustable via Velcro. Made in Canada.
The tree is currently set to what we consider to be approximately a size Medium-Wide.
Per the Manufacturer:
The HK saddle delivers world class competitiveness to the serious adult amateur. The HK was developed in partnership with Heike Kemmer, Olympic individual bronze and team gold dressage medalist to deliver the performance of a champion saddle designed with superior support for the rider in mind.
SEAT - The 10.5 cm seat depth, extremely soft seat and extra forward balance provides the rider complete support and comfort.
BLOCKS - The adjustable thigh blocks give the rider the flexibility to adjust their leg support to their personal preference.
TWIST - The narrow twist allows the rider's leg to fall and hang naturally providing close contact.
BILLET SYSTEM - 2 billet system. The adjustable V-Webbing billet system allows for correct billet alignment and equal pull throughout the length of the tree.
PANEL - The 3/4 independent shoulder relief system allows the horse complete freedom of movement. The independent panel allows the spine to move, bend and lift during collection. The sweat flap and panel are both cut away at the shoulder.
Is this saddle a good option for my horse? Our saddle fitter can review photos and a wither tracing of your horse to see if this saddle might work for you.
Saddle trials: We want you and your horse to find just the right fit. All of our saddles come with a 14-day, round-trip trial period. During your trial our fitter can review photos of the saddle on your horse to assess the fit.
Please don't hesitate to
contact us
with any questions.
All measurements provided have either been taken directly from saddle stamps, or are approximate measurements taken by Skylands Saddlery staff. This information is provided as a courtesy to our customers, and is not a guarantee of size or fit as each individual saddle differs from the next (including those of the same brand and model).
All used saddles are sold as is. Although we thoroughly inspect all used saddles in our consignment program, we recommend having any used saddle evaluated for fit and condition during your trial period. We do not warranty the condition of any used saddle. Used saddles purchased from Skylands Saddlery do not come with any warranties, either express or implied. A copy of our complete Saddle Trial Policy will be enclosed with the saddle. You may also review it
here
prior to taking a saddle on trial.